Premium Outlets
On this page we have listed all the other Premium Outlets® in the US, so you can quickly find an Outlet store near you and start your shopping now. For your convenience we have added some basic info about the particular store and a link to the official Premium Outlets® mall which contains all the information you need about that Outlet Mall.
Simon Property Group
All the Premium Outlets® are part of the Simon Property Group, Inc. (NYSE SPG). This is the largest public real estate company in the United States and their portfolio features 81 Premium Outlet Centers® accross the US, Canada, Japan and many more countries. The Premium Outlets® brand is sure to guarentee you the finest designer brands in a shopping environment that will give you all the facilities for an excellent shopping experience.
With Woodbury Commons being the most famous of all the Outlet Centers, there is of course plenty of other Outlet Malls to discover for you. They are all listed here with a short description of what to expect, where to find them and till which time you can shop.
The United States offers a total of 66 Premium Outlet Centers® accross 30 States, so there should always be a Center near you. You can find all of them listed on this website, ordered by State.
Phoenix Outlet Mall
In Arizona there's the Phoenix Premium Outlets®, located in Chandler, AZ (Phoenix Area). You will find 90 Outlet Stores in Phoenix with the large savings you are used to. Phoenix Outlet Mall's offers an impressive collection of designer and name brand outlet stores like Adidas, Banana Republic, Coach, DKNY, Elie Tahari, Lucky Brand, Max Studio, Michael Kors, Nike, Saks Fifth Avenue Off 5th and many more of your favourites.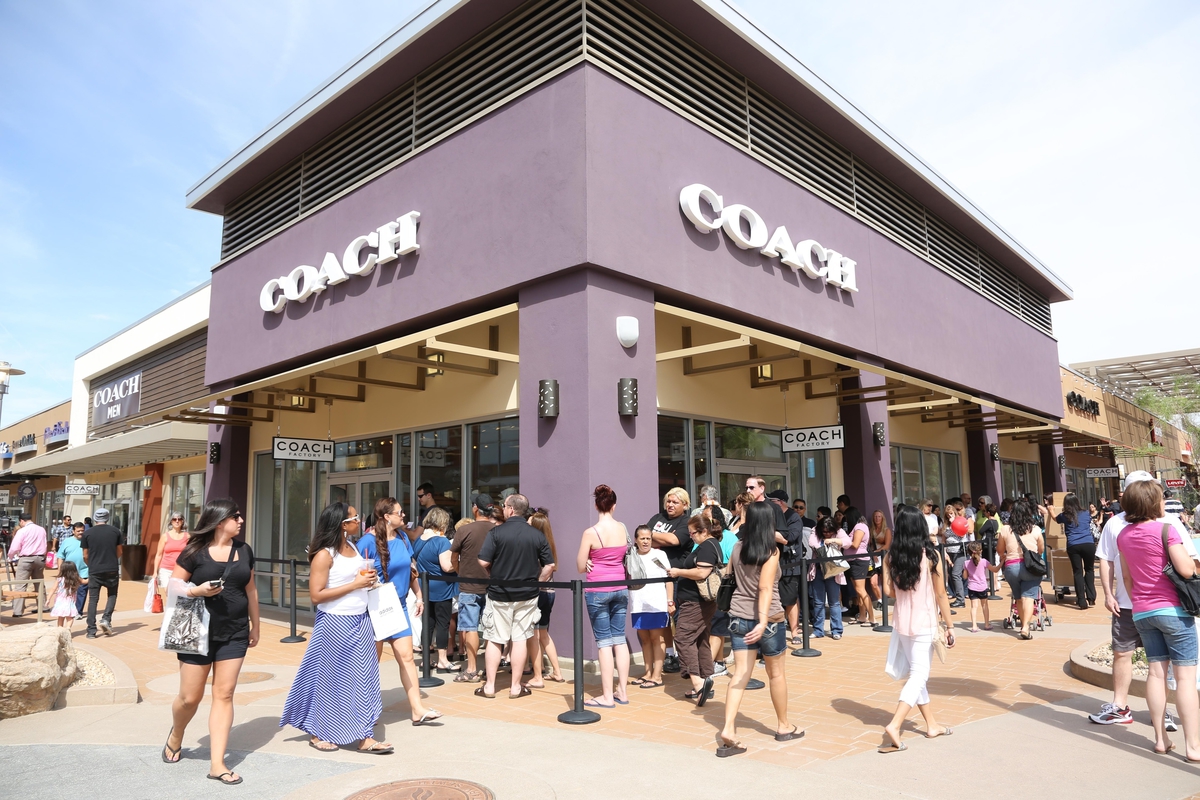 Arizona's first Premium Outlet Center® can be found in Arizona's most famous tourism destination: Wild Horse Pass. A place to enjoy attractions like Golf, Spa&Wellness, Horseback Riding, Casino, Dining&Nightlife, Lodging and of course shopping. Here you can book a long weekend away and enjoy life. To find the Phoenix Outlet Mall, go to the following address:
Phoenix Premium Outlets
4976 Premium Outlets Way
Chandler, AZ 85226
(480) 639-1766
Opening hours: Mon – Sat: 10am-9pm, Sun: 10am-7pm
See the OutletsWebsite for extended holiday and sale hours.
Camarillo Premium Outlets
Camarillo, CA (Los Angeles Area)
Carlsbad Premium Outlets
Carlsbad, CA (San Diego Area)
Desert Hills Premium Outlets
Cabazon, CA (Palm Springs/LA Area)
Folsom Premium Outlets
Folsom, CA (Sacramento Area)
Gilroy Premium Outlets
Gilroy, CA (San Jose Area)
Las Americas Premium Outlets
San Diego, CA (San Diego Area)
Livermore Premium Outlets
Livermore, CA (San Francisco Area)
Napa Premium Outlets
Napa, CA (Napa Valley)
Petaluma Village Premium Outlets
Petaluma, CA (San Francisco Area)
Pismo Beach Premium Outlets
Pismo Beach, CA (Central Coast)
Vacaville Premium Outlets
Vacaville, CA (San Francisco & Sacramento Area)
Clinton Crossing Premium Outlets
Clinton, CT (Connecticut Shoreline)
Ellenton Premium Outlets
Ellenton, FL (Tampa Area)
Orlando Premium Outlets – International Dr
Orlando, FL (Near Universal Orlando)
Orlando Premium Outlets – Vineland Ave
Orlando, FL (Near Walt Disney World)
Silver Sands Premium Outlets
Destin, FL (Near Pensacola/Panama City Beach)
St. Augustine Premium Outlets
St. Augustine, FL (Jacksonville/Daytona Area)
Calhoun Premium Outlets
Calhoun, GA (Atlanta/Chattanooga Area)
North Georgia Premium Outlets
Dawsonville, GA (Atlanta Area)
Waikele Premium Outlets
Waipahu, HI (Honolulu Area)
Chicago Premium Outlets
Aurora, IL (Chicago Area)
Edinburgh Premium Outlets
Edinburgh, IN (Indianapolis Area)
Lighthouse Place Premium Outlets
Michigan City, IN (Chicago Area)
Kittery Premium Outlets
Kittery, ME (Boston Area)
Clarksburg Premium Outlets
Clarksburg, MD (Opening 2015)
Hagerstown Premium Outlets
Hagerstown, MD (Baltimore/Washington D.C. Area)
Queenstown Premium Outlets
Queenstown, MD (Annapolis Area)
Lee Premium Outlets
Lee, MA (The Berkshires)
Wrentham Village Premium Outlets
Wrentham, MA (Boston Area)
Birch Run Premium Outlets
Birch Run, MI (Detroit Area)
Albertville Premium Outlets
Albertville, MN (Minneapolis Area)
Gulfport Premium Outlets
Gulfport, MS (Mississippi Gulf Coast)
Osage Beach Premium Outlets
Osage Beach, MO (St. Louis Area)
St. Louis Premium Outlets
Chesterfield, MO (St. Louis Area)
Las Vegas Premium Outlets – North
Las Vegas, NV (Downtown/North of the Strip)
Las Vegas Premium Outlets – South
Las Vegas, NV (South of the Strip)
Merrimack Premium Outlets
Merrimack, NH (Nashua/North Boston Area)
Jackson Premium Outlets
Jackson, NJ (Next to Six Flags)
Jersey Shore Premium Outlets
Tinton Falls, NJ (Jersey Shore Region)
Liberty Village Premium Outlets
Flemington, NJ (Central New Jersey)
Waterloo Premium Outlets
Waterloo, NY (Syracuse/Rochester Area)
Woodbury Common Premium Outlets
Central Valley, NY (New York City Area)
Carolina Premium Outlets
Smithfield, NC (Raleigh/Durham Area)
Aurora Farms Premium Outlets
Aurora, OH (Cleveland Area)
Cincinnati Premium Outlets
Monroe, OH (Cincinnati/Dayton Area)
Columbia Gorge Premium Outlets
Troutdale, OR (Portland Area)
Woodburn Premium Outlets
Woodburn, OR (Portland Area)
Grove City Premium Outlets
Grove City, PA (Pittsburgh Area)
Philadelphia Premium Outlets
Limerick, PA (Philadelphia Area)
The Crossings Premium Outlets
Tannersville, PA (The Poconos)
Gaffney Premium Outlets
Gaffney, SC (Greenville/Charlotte Area)
Lebanon Premium Outlets
Lebanon, TN (Nashville Area)
Allen Premium Outlets
Allen, TX (Dallas Area)
Grand Prairie Premium Outlets
Grand Prairie, TX (Dallas/Ft. Worth Area)
Houston Premium Outlets
Cypress, TX (Houston Area)
Rio Grande Valley Premium Outlets
Mercedes, TX (McAllen Area)
Round Rock Premium Outlets
Round Rock, TX (Austin Area)
San Marcos Premium Outlets
San Marcos, TX (Austin/San Antonio Area)
Leesburg Corner Premium Outlets
Leesburg, VA (Washington D.C. Area)
Williamsburg Premium Outlets
Williamsburg, VA (Virginia Beach/Richmond Area)
North Bend Premium Outlets
North Bend, WA (Seattle Area)
Seattle Premium Outlets
Tulalip, WA (Seattle Area)
Johnson Creek Premium Outlets
Johnson Creek, WI (Milwaukee Area)
Pleasant Prairie Premium Outlets
Pleasant Prairie, WI (Milwaukee Area)